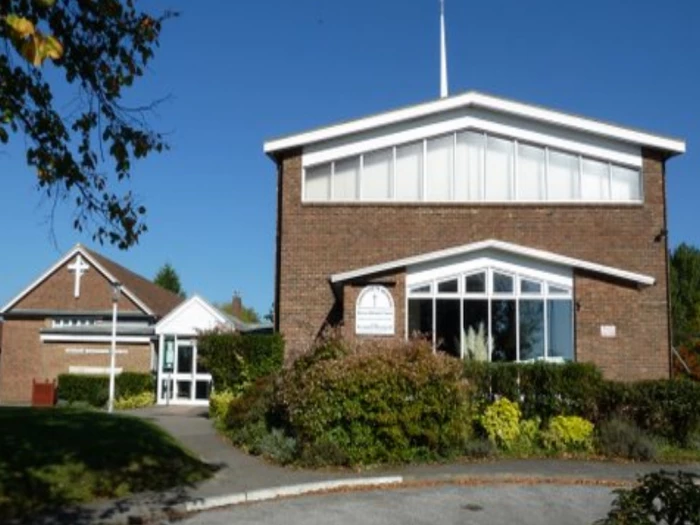 In the late 1940s the Methodist churches within reasonable distance of Merrow were in the centre of Guildford . With the creation of new local authority housing at Bushy Hill, plans were laid to open a new church to serve the local community. Building work began and the hall was opened in 1955.The hall comprised a small sanctuary area, large hall, toilets and kitchen. Bushy Hill homes were visited and the church opened in 1955 with 21 members and over 60 children in the Sunday School. Thanks to the generosity of benefactors and local Methodists, the church opened with no debts. Sister Doris Heard, a Wesleyan deaconess was appointed to serve the church in 1956. Murray J Hasler wrote "her loving and caring personality stamped itself on the life of the church and formed the basis of the close-knit society which grew and prospered."The church soon took on a prominent role in the local community.
The membership grew to 73 by 1961 when Alan Warren was appointed as minister, and under the leadership of Wallace White the number doubled, with over 80 children in Sunday School. A creche was established, a young wives group, men's dining club, youth club and mother and baby club.
The new church building was opened in 1968 and outreach continued in the area. John Ducker, the next minister, was a keen advocate of caring for the community. He was involved with the local Cyrenians and his wife Dorothy started a playgroup at the church in which 42 children were enrolled. A Brownie Pack was also started. John had the gift of putting people at ease. His faith "shone out of him."
John Ducker was followed by Brian Pickett. Much repair work was carried out on the church at this time. Under Brian's leadership the church deepened its fellowship. Membership figures rose following a successful visitation of the new housing estate at Merrow Park and there was standing room only at Christmas and Harvest services. David Coote who followed Brian placed community development and outreach high on the agenda. A community luncheon club was started and the collaborative style of leadership introduced by David continues to this day. During David's ministry the church building was modified to include a welcoming entrance for all using the building.
Nick Holt followed David in 1996 and two youth workers were supported by the church at this time. A choir was started and links continued with other local churches. In 2003 Darlene McCarley was welcomed as minister. Darlene's innovative worship was much appreciated and the church refocused on prayer and fellowship. Alan Thorpe became our minister in January 2011 and was followed in Sep 2012 by Asif Das.
In September 2021, Rev. George Quarm became the minister at Merrow.
The above is a brief précis of the full history of Merrow Methodist Church written by Catherine Winder.